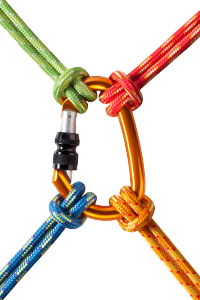 Syncro takes quality very seriously.  Attention to quality is part of our culture, and embedded in every aspect of how we deliver our services. We don't just test it in at the end of the project.  Here's how we build quality into your software from the very beginning.  
Architecture Best Practices
At the early stages of the project, Syncro Medical ensures that the architecture of your new product supports maintainability, scalability, flexibility, reusability, and testability. For example, we'll use an N-Tier architecture to decouple and abstract out functionality so if something changes, we minimize the breadth and depth of the change. We incorporate design patterns, such as MVVM to further separate the presentation from the domain logic and allow us to unit test more of the presentation than we could without MVVM. With all of this architected from the very beginning, we're able to be agile and handle change requests in a timely and accurate fashion.  
Adherence to Defined Development Process
Syncro Medical closely adheres to the development process defined in the Quality System used for your project.  No exceptions.  Our software engineers understand the critical importance of documenting design, coding to a standard, thorough unit testing, as well as design- and code-reviews.  Syncro Medical's test engineers are an integral part of the development team assigned to your project. If independent verification of your software is required, count on us. Our testers strive to create the verification test plan as early as possible in the development cycle. That way, testing against the plan can start right away. As a result, minimal bugs, if any, are found during verification. In addition, Syncro can provide software Risk and Hazard Analysis and Requirements Traceability appropriate to your product's Level of Concern. 
We'll involve our Quality Director to work with you from requirements through to test, ensuring that functionality is clearly specified, that the code meets specifications, and that the entire project is documented properly for regulatory submission. 
Leveraging Agile to Ensure Quality
 Because we use the Agile development methodology, Syncro Medical clients see the new increment during the sprint review every 3 weeks (or whatever duration is specified for the project). The sprint cycle gives our clients the opportunity to run, inspect, and test the code frequently throughout the development process, or have it on hand for demos. This feedback cycle helps ensure compliance and correctness of the software. 
Using the Latest Tools
Syncro uses the best tools on the market to ensure quality and productivity, including code analysis, continuous integration, and automated testing. We currently use UpSource for code reviews, and Resharper for code style adherence. TeamCity is used for continuous build and integration — each build automatically executes those thorough unit tests we've created so that issues are found and fixed quickly. We'll also use the latest version of the Development Environment and technology appropriate for the project to ensure your product has a modern look and feel. For mobile medical apps, this means keeping up with all OS and language releases. 
Quality System – Adaptability is Key
Syncro Medical has a comprehensive Quality System specifically focused on the software component of medical products.  You're welcome to use our Quality System, if desired.  Alternatively, we're happy to use your Quality System if that's your preference.  If the best option is to use a hybrid of yours and ours (which many of our clients prefer), we can take that approach as well.  The bottom line is that we're very flexible, and will adapt as needed to suit your specific needs.